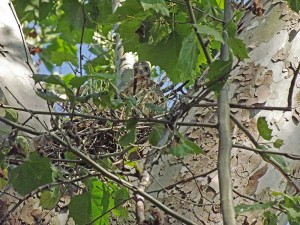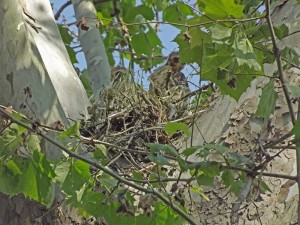 It was a beautiful warm morning that 10 of us enjoyed thoroughly down in Harpers Ferry, along the river and wetlands, on a PVAS-sponsored bird walk. We got an early start – a good thing – by 10 AM the sun's heat was becoming intense.
Most fun to watch were the 20+ BALTIMORE ORIOLES darting here & there & singing at the treetops; one of the males was chasing an OSPREY with a fish in its talons clear across the Shenandoah River. We saw clearly 2 oriole nests with both parents at them. Also – about half dozen ORCHARD ORIOLES, at least 2 of them 1st summer males, yellow with black masks, singing away.
We got to see several newbie WHITE-BREASTED NUTHATCHES scaling the sycamores with parents nearby to feed them occasionally.
Perhaps the highlight of the walk was seeing 2 fuzzy, fluffy big-eyed RED-SHOULDERED HAWK juveniles on the nest near the Shenandoah Canal. They looked down at us so sweetly with their large dark eyes.
The WARBLING VIREOS and COMMON GRACKLES filled the air with lots of song and noise. Loads of CEDAR WAXWINGS buzzing all along the way.
Also, Birdmom alerted us all to a pair of red fox kits – we turned to look back on the rr tracks and there they were: one sitting upright like a small dog, the other standing beside him, they looking at us and we at them. Another sweet moment of the morning. Later, about 15 Tiger Swallowtail butterflies convened in one spot on at a beachy area along the river, feeding on some salty shells.
Continue reading →